Monday Munchies: Taco Stuffed Shells
Here's something interesting for you taco lovers.
This recipe for taco stuffed shells consists of ground beef and cream cheese for the filling and is topped with tortilla chips and cheese. Make sure to let the filling mixture have enough time to cool before stuffing the shells or you might have a sloppy mess on your hands.
The traditional pasta sauce is replaced with a combination of salsa and taco sauce… the best part about this is you can make it as hot as you want! Everyone that tried these thought they were great and I thought the flavor was absolutely delicious. The green onions went nicely as a garnish and only adding to the flavor. If you want you can add other things such as black olives, sour cream or whatever you like on tacos on top as well.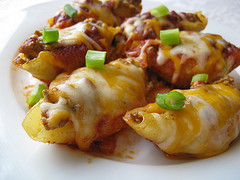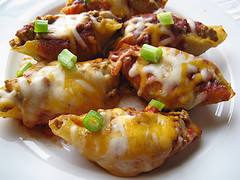 Ingredients:
1lb ground beef
1 package taco seasoning
1 4 once package cream cheese
12 large pasta shells
1 cup salsa
1 cup taco sauce
1 cup cheddar cheese (shredded)
1 cup Monterey jack cheese (shredded)
1 ½ cups tortilla chips (crushed)
3 green onions (chopped)
1 cup sour cream